Sustainability
-Initiatives for SDGs-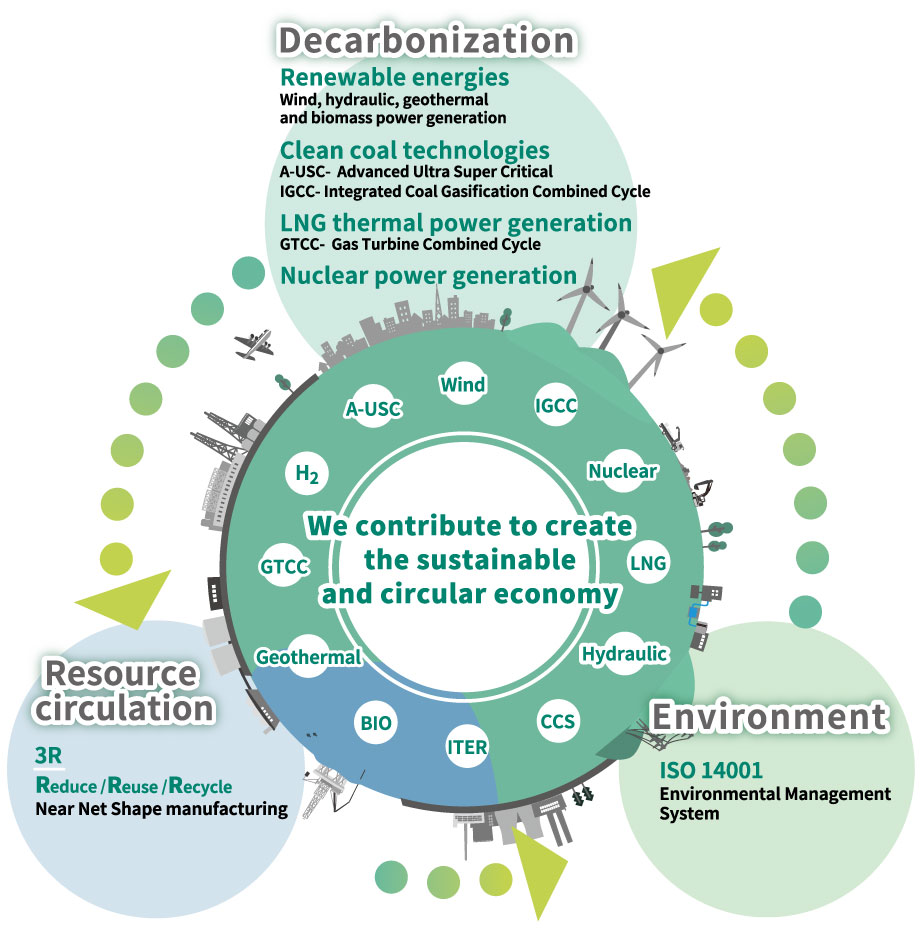 As a manufacturer of forged flanges and other forged products for piping, Shimoda Flange has been earning the trust of customers due to a wide range of material stocks and cultivated technologies for forging, heat treatment and machining over many years. Simultaneously, we have always been proactive in developing new technologies.

In particular, since the end of the 20th century, there has been a call for a reduction of greenhouse gases. In order to meet these demands, new thermal power generation systems using even higher pressures and temperatures on supercritical water has been developed in order to improve efficiency. Since these new plants demand high strength and high corrosion-resistant piping components, Shimoda Flange has met these demands and has contributed to the practical application of these high-grade piping components.

However, it is well known that the demands of the era are undergoing a phase change from "Low-carbonization to Decarbonization" due to the recent remarkable global warming and the frequent occurrence of natural disasters. As a consequence, we are now focusing our efforts on expanding our contribution to the field of "Decarbonization" in areas such as wind power generation and geothermal power generation. We are doing this in parallel with the continued improvement and development of the conventional technologies for "Low-carbonization".

Among the 17 goals of the Sustainable Development Goals (SDGs) adopted by the United Nations in 2015, two goals stand out for us here at Shimoda Flange. One of which is to realize a decarbonized society depending on clean energy (7th goal). The other is to create "The Circular Economy" which prevents the depletion of limited natural resources (12th goal). Both of these goals gives us important stimulus and focus in conducting our future activities. As a company we plan to make our best contribution in order to achieve these goals by utilizing cultivated manufacturing technologies.

Of course alongside the more global aspects of meeting the listed SDGs Shimoda Flange also makes every effort to educate and develop our employees on the benefits and improvements that can be made directly within the company.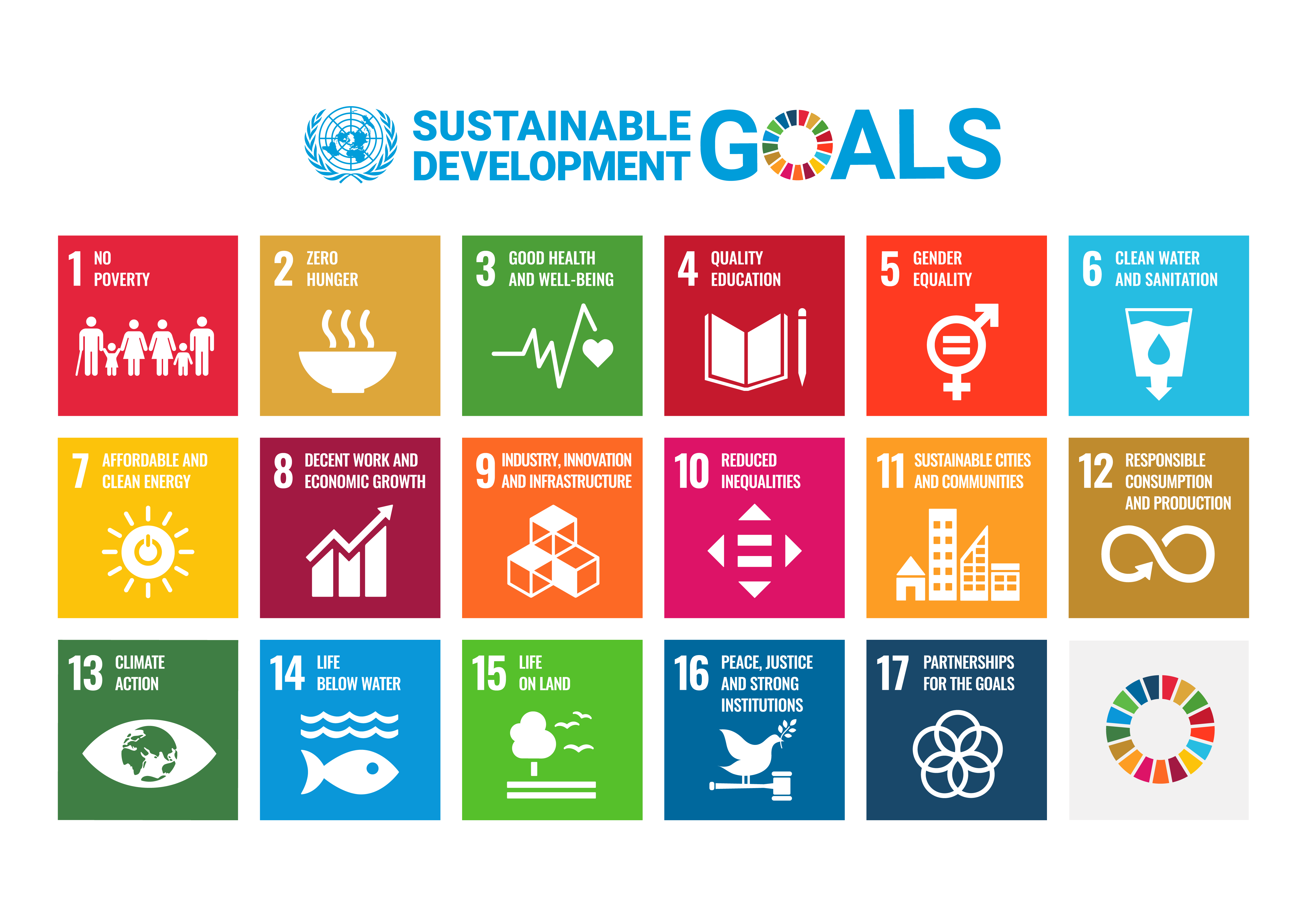 Shimoda's initiatives

CLIMATE ACTION
Theme
Action
SDGs
Renewable energy
Delivery of products for renewable energy power plants; - Wind power generation (onshore and offshore) - Geothermal power generation - Biomass power generation

#rowspan#
#rowspan#
#rowspan#
#rowspan#
#rowspan#
#rowspan#
#rowspan#
#rowspan#
#rowspan#
#rowspan#
#rowspan#
#rowspan#
#rowspan#
#rowspan#
#rowspan#

#rowspan#
#rowspan#

#rowspan#
#rowspan#
#rowspan#
#rowspan#
#rowspan#
#rowspan#
#rowspan#
#rowspan#
#rowspan#
#rowspan#
#rowspan#
#rowspan#
#rowspan#
#rowspan#
#rowspan#

#rowspan#
#rowspan#

#rowspan#
#rowspan#
#rowspan#
#rowspan#
#rowspan#
#rowspan#
#rowspan#
#rowspan#
#rowspan#
#rowspan#
#rowspan#
#rowspan#
#rowspan#
#rowspan#
#rowspan#

#rowspan#
#rowspan#

#rowspan#
#rowspan#
#rowspan#
#rowspan#
#rowspan#
#rowspan#
#rowspan#
#rowspan#
#rowspan#
#rowspan#
#rowspan#
#rowspan#
#rowspan#
#rowspan#
#rowspan#

#rowspan#
Installation of solar panels on the factory building

#rowspan#
#rowspan#
#rowspan#
#rowspan#
#rowspan#
#rowspan#
#rowspan#
#rowspan#
#rowspan#
#rowspan#
#rowspan#
#rowspan#
#rowspan#
#rowspan#
#rowspan#

Next generation energies
Delivery of products for the following applications; - Liquefied hydrogen carriers - International Thermonuclear Experimental Reactor

#rowspan#
#rowspan#
#rowspan#
#rowspan#
#rowspan#
#rowspan#
#rowspan#
#rowspan#
#rowspan#
#rowspan#
#rowspan#
#rowspan#
#rowspan#
#rowspan#
#rowspan#

#rowspan#
#rowspan#

#rowspan#
#rowspan#
#rowspan#
#rowspan#
#rowspan#
#rowspan#
#rowspan#
#rowspan#
#rowspan#
#rowspan#
#rowspan#
#rowspan#
#rowspan#
#rowspan#
#rowspan#

#rowspan#
#rowspan#

#rowspan#
#rowspan#
#rowspan#
#rowspan#
#rowspan#
#rowspan#
#rowspan#
#rowspan#
#rowspan#
#rowspan#
#rowspan#
#rowspan#
#rowspan#
#rowspan#
#rowspan#

Reduction of CO₂ emission
Delivery of products for the following power plants; - Clean coal technologies (A-USC, IGCC) - LNG thermal power generation (GTCC) - Nuclear power generation

#rowspan#
#rowspan#
#rowspan#
#rowspan#
#rowspan#
#rowspan#
#rowspan#
#rowspan#
#rowspan#
#rowspan#
#rowspan#
#rowspan#
#rowspan#
#rowspan#
#rowspan#

#rowspan#
#rowspan#

#rowspan#
#rowspan#
#rowspan#
#rowspan#
#rowspan#
#rowspan#
#rowspan#
#rowspan#
#rowspan#
#rowspan#
#rowspan#
#rowspan#
#rowspan#
#rowspan#
#rowspan#

#rowspan#
#rowspan#

#rowspan#
#rowspan#
#rowspan#
#rowspan#
#rowspan#
#rowspan#
#rowspan#
#rowspan#
#rowspan#
#rowspan#
#rowspan#
#rowspan#
#rowspan#
#rowspan#
#rowspan#

#rowspan#
#rowspan#

#rowspan#
#rowspan#
#rowspan#
#rowspan#
#rowspan#
#rowspan#
#rowspan#
#rowspan#
#rowspan#
#rowspan#
#rowspan#
#rowspan#
#rowspan#
#rowspan#
#rowspan#

National resilience
Development of new mechanical joints for civil works to prevent natural disasters such as, mudslides and floods.

#rowspan#
#rowspan#
#rowspan#
#rowspan#
#rowspan#
#rowspan#
#rowspan#
#rowspan#
#rowspan#
#rowspan#
#rowspan#
#rowspan#
#rowspan#
#rowspan#
#rowspan#

#rowspan#
#rowspan#

#rowspan#
#rowspan#
#rowspan#
#rowspan#
#rowspan#
#rowspan#
#rowspan#
#rowspan#
#rowspan#
#rowspan#
#rowspan#
#rowspan#
#rowspan#
#rowspan#
#rowspan#

Inhouse energy saving activities
Installation of the latest power saving machining tools

#rowspan#
#rowspan#
#rowspan#
#rowspan#
#rowspan#
#rowspan#
#rowspan#
#rowspan#
#rowspan#
#rowspan#
#rowspan#
#rowspan#
#rowspan#
#rowspan#
#rowspan#

#rowspan#
Improvement of fuel consumption by renewal of heat treatment furnaces

#rowspan#
#rowspan#
#rowspan#
#rowspan#
#rowspan#
#rowspan#
#rowspan#
#rowspan#
#rowspan#
#rowspan#
#rowspan#
#rowspan#
#rowspan#
#rowspan#
#rowspan#

#rowspan#
Application of power saving products (LED lights for offices and shops, inverter control for AC motors, etc.)

#rowspan#
#rowspan#
#rowspan#
#rowspan#
#rowspan#
#rowspan#
#rowspan#
#rowspan#
#rowspan#
#rowspan#
#rowspan#
#rowspan#
#rowspan#
#rowspan#
#rowspan#
CHALLENGE TO TECHNICAL INNOVATION
Theme
Action
SDGs
Development of new technologies
Challenge to new technologies (utilization of "Support Industry" project by METI)

#rowspan#
#rowspan#
#rowspan#
#rowspan#

#rowspan#
Development of new mechanical joints for construction and civil engineering

#rowspan#
#rowspan#
#rowspan#
#rowspan#

#rowspan#
Development of new processing technology and acquisition of patents

#rowspan#
#rowspan#
#rowspan#
#rowspan#

#rowspan#
Development of Near Net Shape manufacturing by Powder HIP process

#rowspan#
#rowspan#
#rowspan#
#rowspan#

#rowspan#
Introduce our new products at domestic and international exhibitions

#rowspan#
#rowspan#
#rowspan#
#rowspan#

Entering new markets
Entry into the aerospace industries

#rowspan#
#rowspan#
#rowspan#
#rowspan#

#rowspan#
Launching of new business of cold drawing

#rowspan#
#rowspan#
#rowspan#
#rowspan#
SUSTAINABILITY
Theme
Action
SDGs
Environmental management according to ISO 14001
Promotion of 3R activities (Reduce, Reuse and Recycle)

#rowspan#
#rowspan#
#rowspan#

#rowspan#
Noise protection and oil leak prevention

#rowspan#
#rowspan#
#rowspan#

#rowspan#
Plant greening promotion

#rowspan#
#rowspan#
#rowspan#

Environmental protection
Delivery of products for scrubbers of the marine engine conforming to SOx regulation

#rowspan#
#rowspan#
#rowspan#

Business continuity
Acquisition of Business Continuity Enhancement Certification by METI (March, 2020)

#rowspan#
#rowspan#
#rowspan#

#rowspan#
Acquisition of external organization certifications; (ISO 9001, JIS Q 9100, PED, ASME, NORSOK)

#rowspan#
#rowspan#
#rowspan#

#rowspan#
#rowspan#

#rowspan#
#rowspan#
#rowspan#

#rowspan#
Compliance with corporate compliance guidelines

#rowspan#
#rowspan#
#rowspan#
HEALTH AND SAFETY
Theme
Action
SDGs
Human health and safety
Delivery of products for the following plants; - Seawater desalination plants - Water supply facilities - Desert greening project in the Middle East

#rowspan#
#rowspan#
#rowspan#
#rowspan#
#rowspan#
#rowspan#
#rowspan#
#rowspan#

#rowspan#
#rowspan#

#rowspan#
#rowspan#
#rowspan#
#rowspan#
#rowspan#
#rowspan#
#rowspan#
#rowspan#

#rowspan#
#rowspan#

#rowspan#
#rowspan#
#rowspan#
#rowspan#
#rowspan#
#rowspan#
#rowspan#
#rowspan#

#rowspan#
#rowspan#

#rowspan#
#rowspan#
#rowspan#
#rowspan#
#rowspan#
#rowspan#
#rowspan#
#rowspan#

Employee health and safety
HSE (Health, Safety and Environmental) activities managed by HSE Committee

#rowspan#
#rowspan#
#rowspan#
#rowspan#
#rowspan#
#rowspan#
#rowspan#
#rowspan#

#rowspan#
Chemical substance risk assessment by preparation of SDS (Safety Data Sheet)

#rowspan#
#rowspan#
#rowspan#
#rowspan#
#rowspan#
#rowspan#
#rowspan#
#rowspan#

#rowspan#
Employee health management and heatstroke measures in summer time

#rowspan#
#rowspan#
#rowspan#
#rowspan#
#rowspan#
#rowspan#
#rowspan#
#rowspan#

With Corona, after Corona
Various measures against COVID-19 - Avoid the "3 Cs" : Confined spaces, Crowded places and Close contact

#rowspan#
#rowspan#
#rowspan#
#rowspan#
#rowspan#
#rowspan#
#rowspan#
#rowspan#

#rowspan#
#rowspan#

#rowspan#
#rowspan#
#rowspan#
#rowspan#
#rowspan#
#rowspan#
#rowspan#
#rowspan#

#rowspan#
Promotion of telework (machine tool programing, etc.)

#rowspan#
#rowspan#
#rowspan#
#rowspan#
#rowspan#
#rowspan#
#rowspan#
#rowspan#
WORKING STYLE REFORMATION
| Theme | Action | SDGs |
| --- | --- | --- |
| Diversity | Promotion of female recruitment | |
| #rowspan# | Employment of persons with disabilities, compliance with legal employment rate | |
| Human resource and education | Employment extension for elderly technicians | |
| #rowspan# | Accepting internships from local high schools and vocational training schools | |
PARTNERSHIP
Theme
Action
SDGs
Joint development
Joint development with other companies; - Application of new material developed by a steel company to our forged products - Development of a new manufacturing process with powder sintering company

#rowspan#
#rowspan#
#rowspan#
#rowspan#
#rowspan#
#rowspan#
#rowspan#

#rowspan#
#rowspan#

#rowspan#
#rowspan#
#rowspan#
#rowspan#
#rowspan#
#rowspan#
#rowspan#

#rowspan#
#rowspan#

#rowspan#
#rowspan#
#rowspan#
#rowspan#
#rowspan#
#rowspan#
#rowspan#

#rowspan#
Industry-academia-government collaboration

#rowspan#
#rowspan#
#rowspan#
#rowspan#
#rowspan#
#rowspan#
#rowspan#

Membership registration to technical associations
- Japan Vacuum Association - Heat Treatment Association - JAMSTEC (Japan Agency for Marine-Earth Science and Technology), - JAQG (Japan Aerospace Industry Association), - Thermal Power Nuclear Power Technology Association, etc.

#rowspan#
#rowspan#
#rowspan#
#rowspan#
#rowspan#
#rowspan#
#rowspan#

#rowspan#
#rowspan#

#rowspan#
#rowspan#
#rowspan#
#rowspan#
#rowspan#
#rowspan#
#rowspan#

#rowspan#
#rowspan#

#rowspan#
#rowspan#
#rowspan#
#rowspan#
#rowspan#
#rowspan#
#rowspan#

#rowspan#
#rowspan#

#rowspan#
#rowspan#
#rowspan#
#rowspan#
#rowspan#
#rowspan#
#rowspan#

Regional communication
Various initiatives with local communities (local government, neighboring companies)

#rowspan#
#rowspan#
#rowspan#
#rowspan#
#rowspan#
#rowspan#
#rowspan#