company
Corporate history
Following our founding in 1946, we started to manufacture standard series of steel flanges in 1963. However,in 1984, we changed our strategy to focus our business on high-end products. Since then, we have delivered various special forged components manufactured by our experienced and unique technologies not only to domestic markets but also to all over the world. Recently we have been challenging new products by means of utilizing our cultivated technologies.
Foundation
Shinichi SHIMODA founded a marine part manufacturing factory at Matsumae-cho, Aioi city as a subcontractor of Harima Shipyard.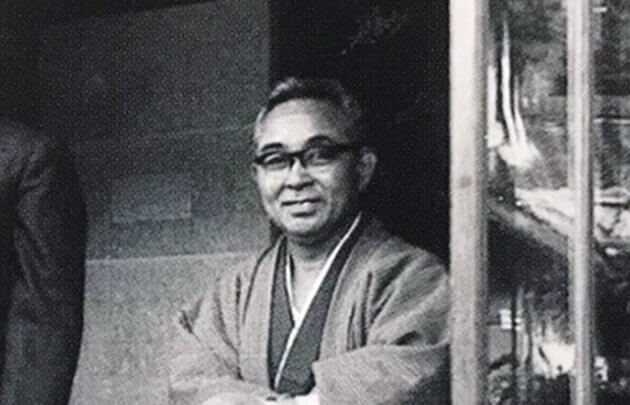 Establishment
Shimoda Tekkosho Co., Ltd. was established at Asahi-cho, Aioi city.
To a flange producer
Office and the main plant were relocated to Ryusen-cho, Aioi city (present location). Started as a specialized steel flange manufacturer.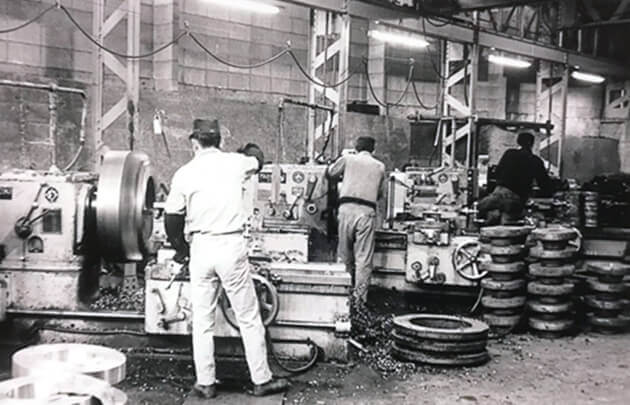 Excellent entrepreneurial recognition
Awarded a prize as an excellent entrepreneur by the Director of the Small & Medium Enterprise Agency.
New Tatsuno Plant
Tatsuno Plant is newly constructed at Kitayama, Tatsuno city.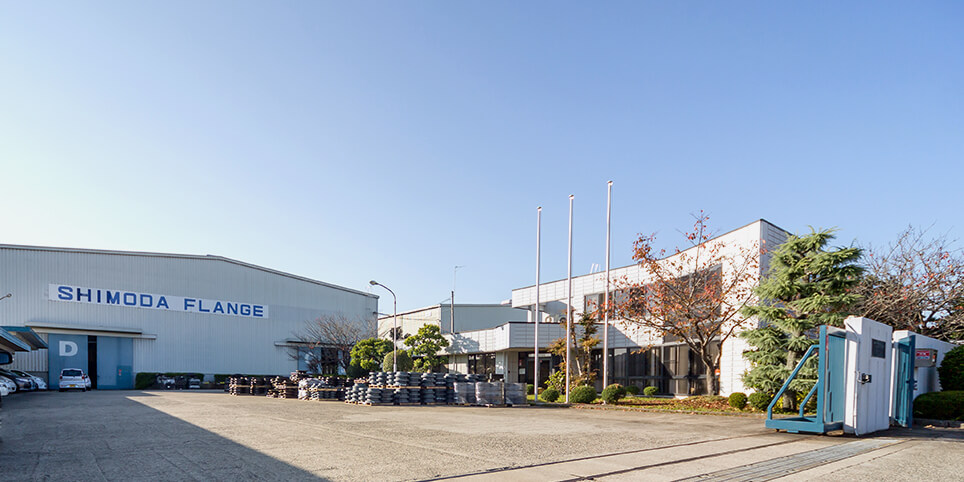 From ocean to land
Changed our main business from the ship building industry to land based industries.
Development of high grade products
Obtained a large volume order of high grade flanges for an Alaska pipe line.
To a high-end fitting and forging producer
Withdrew from the plate flange markets. Our new strategy refocused on to the high-end forged products.
Establishment of integrated production system
Integrated production systems including on-line management system and automated FMS (Flexible Manufacturing System) line were installed.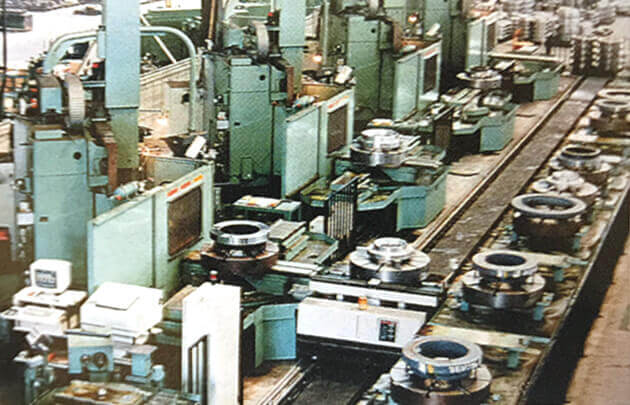 New company name
Company name in Japanese was changed to Shimoda Flange Co., Ltd. (English name "Shimoda Iron Works Co., Ltd." was not changed.)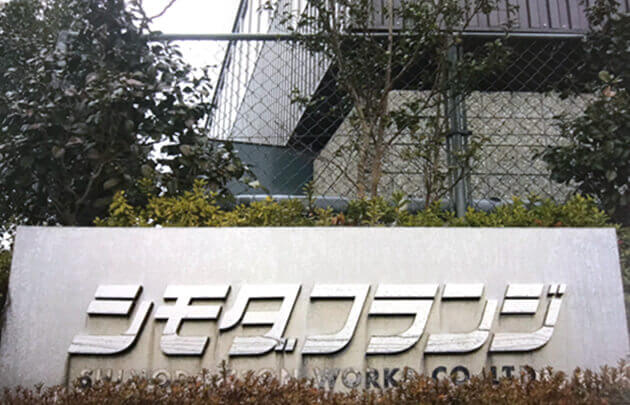 ISO 9001
Acquisition of ISO 9001 Quality Management System.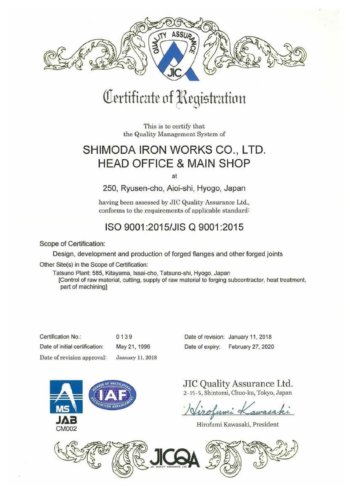 New machines at North Shop Floor
North Shop Floor was newly constructed at Main Plant. State-of-art machine tools were installed.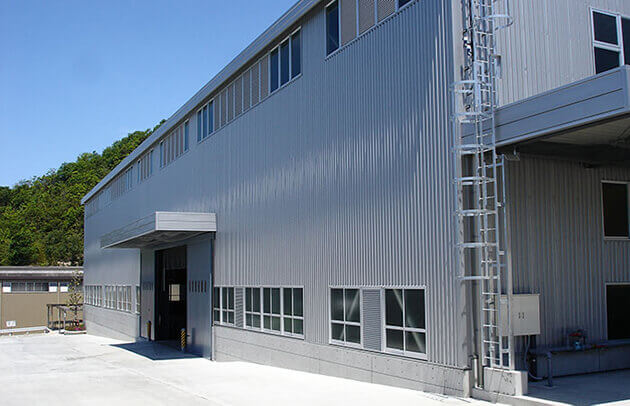 PED 97/23/EC
After acquisition of European Pressure Equipment Directive PED 97/23/EC Annex 1, a variety of forged products were delivered to power and chemical plants in Europe.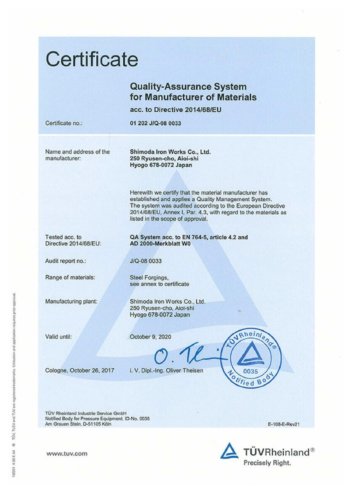 ASME CMO
Acquisition of ASME CMO for nuclear power components.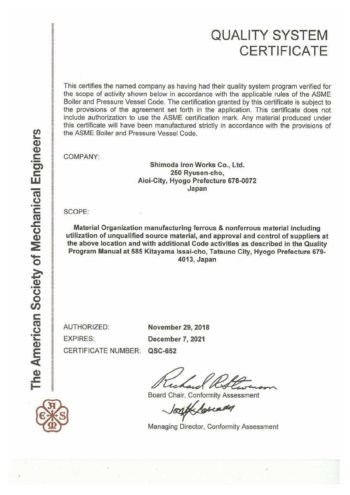 Award of Invention
The Japan Institute of Invention and Innovation awarded Shimoda Flange the "Achievement Award of Practical Application of Invention'' for their construction of a forged and fully machined elbow.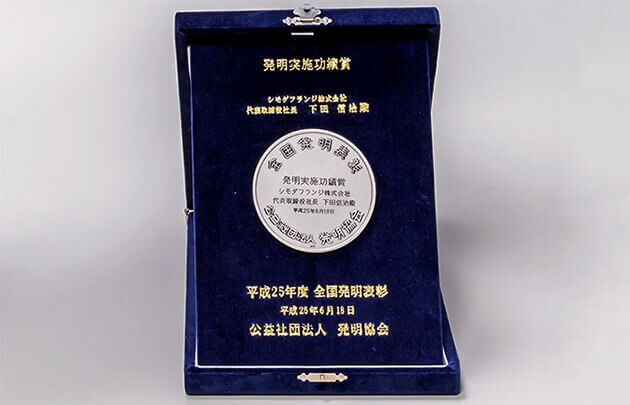 ISO 14001
Acquisition of ISO 14001 Environmental Management System.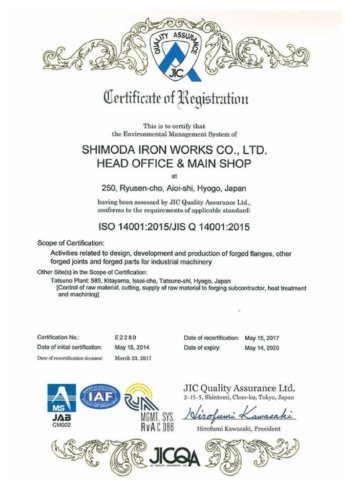 Achilles JQS
Registered by Achilles JQS as a supplier to the oil industries in Norway and Denmark.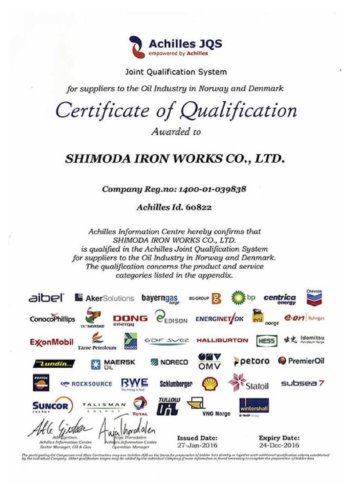 Patent of the machining procedure of large screws
Shimoda Flange developed the new machining procedure of large screws having diameter greater than 1,500mm. Applications of such screw couplers to constructions and civil works have been increasing.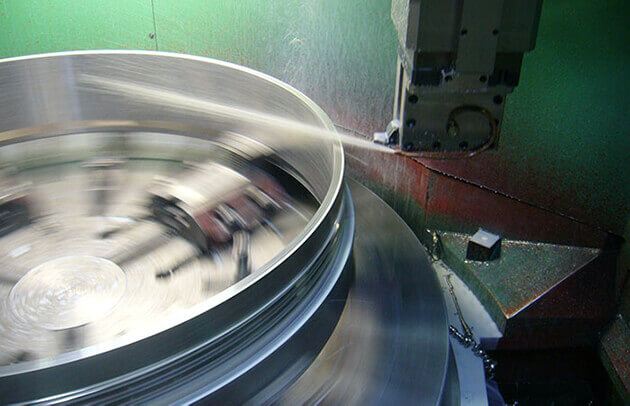 New Ryuko Plant
Ryuko Plant is newly constructed at Ryuko, Tatsuno city.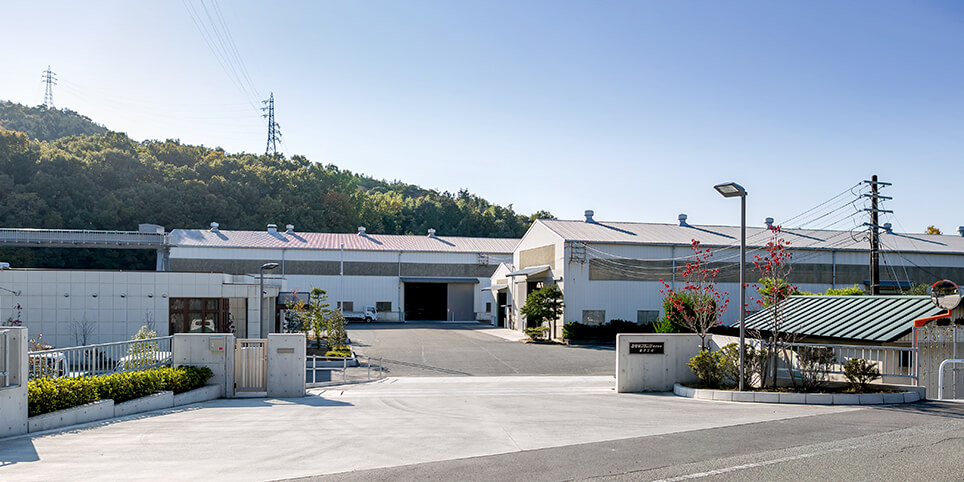 NORSOK
NORSOK is one of the global standard for oil and gas industries. Our forgings made of duplex stainless steel were qualified by NORSOK.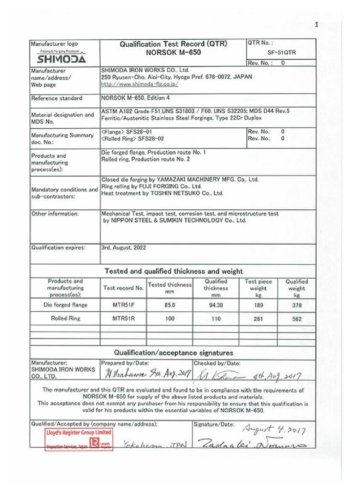 Aerospace certification: JIS Q 9100
Shimoda Flange is certified as a supplier in the scope of machining of metal parts for aerospace equipment.